#1 Dumpster Rental Nashville Company For All Projects
If you're searching for the number one choice for dumpster rental Nashville options, look no further than with our team of friendly professionals! Start your cleanout project today with our help. Driveway Group Dumpsters, located in Nashville, Tennessee, is the area's go-to for an affordable, reliable, and convenient Nashville dumpster rental.

As the area's premier Nashville dumpster company, we are happy to say we provide our customers with the best customer support and equipment available. We proudly serve Nashville, TN, and the surrounding areas with our dumpsters Nashville TN service. When you have one of our dumpster rental Nashville containers on your site, you have the tool you need to get your job done right the first time.

Our company is locally owned and operated, which means we are invested in the communities that we serve. Our team has years of experience in dumpster rental Nashville, which sets us apart from the competition. Our roll off dumpsters in Nashville TN are durable, heavy-duty containers that can handle just about anything you throw in them. We pay special attention to the maintenance of our equipment, so we know our dumpsters will not disappoint. Choosing our dumpster service Nashville is the smart choice for getting the rental you need to be delivered to your site or home so that you can complete your project in a cost-effective, timely manner. Book your roll off online or give us a call at (615) 414- 9552 today!
Why Choose Us for Your Dumpster Rental in Nashville
Our team is the go-to choice for your next dumpster rental in Nashville because we prove time and time again that we're knowledgeable, trustworthy, and reasonably priced. Our commitment to excellence sets us apart from the rest and we're ready to show our new and existing customers why we're the #1 option for all of your roll off rental needs!

We carry only industry-leading containers designed and produced by reputable manufacturers in the U.S. Business owners and homeowners alike trust our Nashville roll off dumpster rentals to keep their job sites, businesses, and homes clean. We partner with many local businesses who need our garbage dumpster rental Nashville for events, single-use office or building cleanouts, and ongoing uses. Contractors and business owners alike understand how important it is to partner with a trusted rental company to manage their waste disposal needs.

Driveway Group Dumpsters has the best dumpster rental prices Nashville in the area. We are committed to affordably priced trash containment for the community. You'll find our reliable service and equipment to be outstanding and cost-effective. Our team leaves nothing to chance, so let us show you how our dumpster rental in Nashville will save you time and money.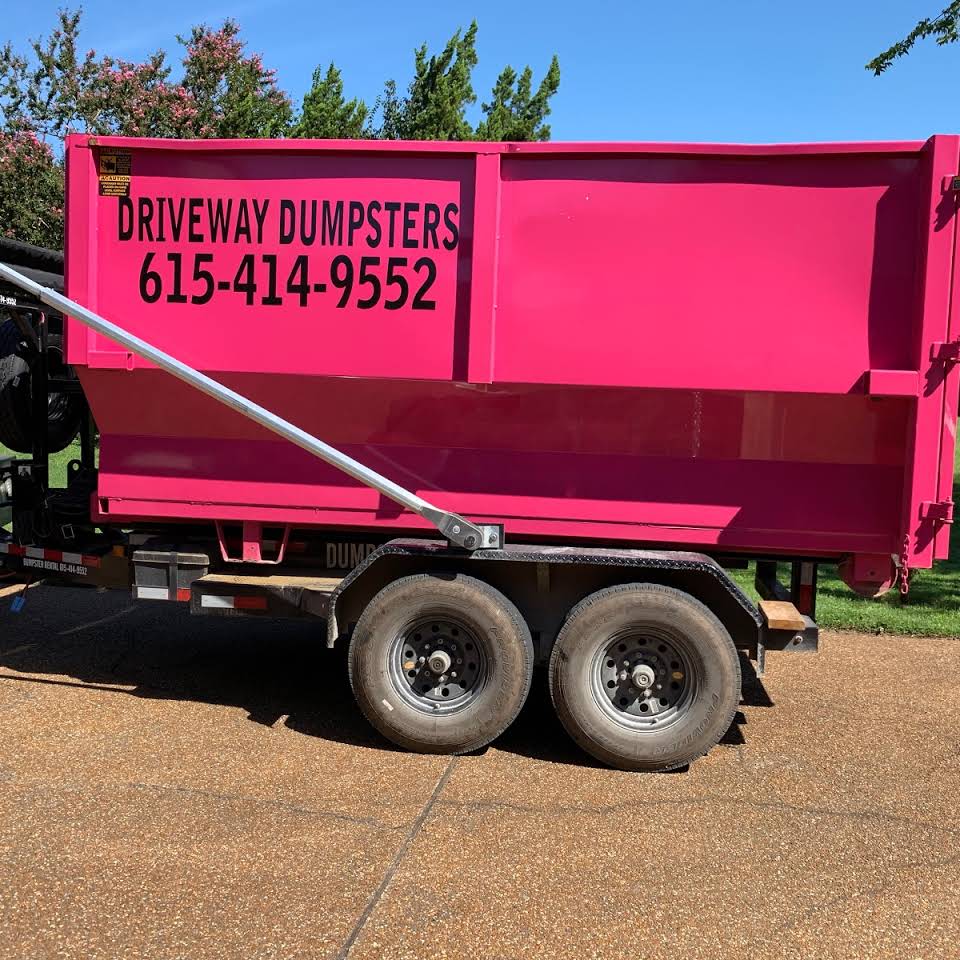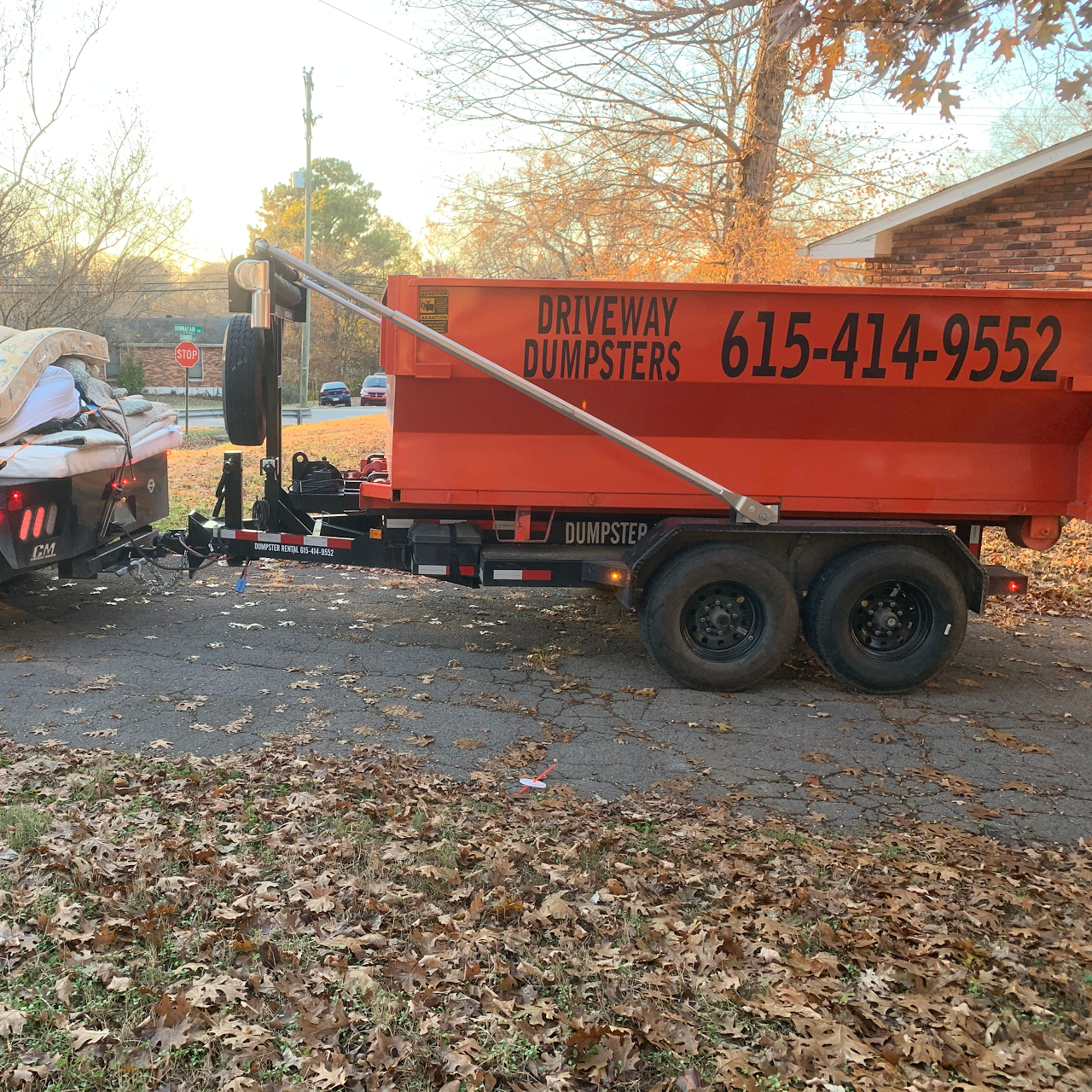 Various Convenient Uses for our Dumpster Rental Nashville TN
Area residents find a multitude of uses for our dumpster rental Nashville TN. Whether for household cleanouts or commercial use, we have the container for you. Homeowners find our dumpster rental options in Nashville TN to be just what they need for DIY projects and cleanouts. For business owners and contractors, a container is an indispensable tool of the trade. Keeping a construction site free of loose debris is essential to the safety of all Nashville. When you have one of our construction dumpsters Nashville on-site, your trash containment problem is solved. You can depend on our team to have the container placed where you need it when you need it there.

No matter the reason you need a dumpster rental Nashville TN, we have the container to suit your job. With sizes from 10 yard to 30 yard containers, we can handle debris of all types and sizes. Trust our team to deliver the roll off dumpster rental Nashville right where you need it, and to pick it up promptly when you're finished. Our trained drivers will transport your debris to the local Williams County Landfill where it will be disposed of following county and state regulations.

Driveway Group Dumpsters is the top choice for rolloff dumpsters Nashville and surrounding areas. You'll find that our outstanding service and prices can't be beaten. Whether you need a dumpster in Nashville for household downsizing or cleanout, or on an ongoing commercial basis, we have the container for your needs. We are ready to help with your Nashville roll off dumpster rental whenever you're ready to get the job done! Book your container online today using our convenient system or get in touch with us at (615) 414- 9552.
Reliable Dumpster Rental Nashville Tennessee for Residents
Area homeowners rely on us for our convenient dumpster rental Nashville Tennessee when they have trash and debris to dispose of. Don't try hauling those broken appliances in your vehicle - the effort and hazards are not worth it. The price of small dumpster Nashville options is affordable for homeowners to declutter and clean out a wide range of spaces. Reclaim your cluttered space with one of our dumpster rentals Nashville options on your property. Just fill it up with all of your unwanted items and we'll haul them away!

Residents use our Nashville dumpsters for de-cluttering, yard projects, estate sale preparation, downsizing, upgrading appliances, removing old furniture, remodeling projects, roof repairs, and so much more. We make it easy to clean out your attic or garage space all at once, so you won't be making several trips to the landfill. We will deliver the solution to your junk problem with a dumpster rental Nashville Tennessee. Just give us a call at (615) 414- 9552 or book your roll off online today!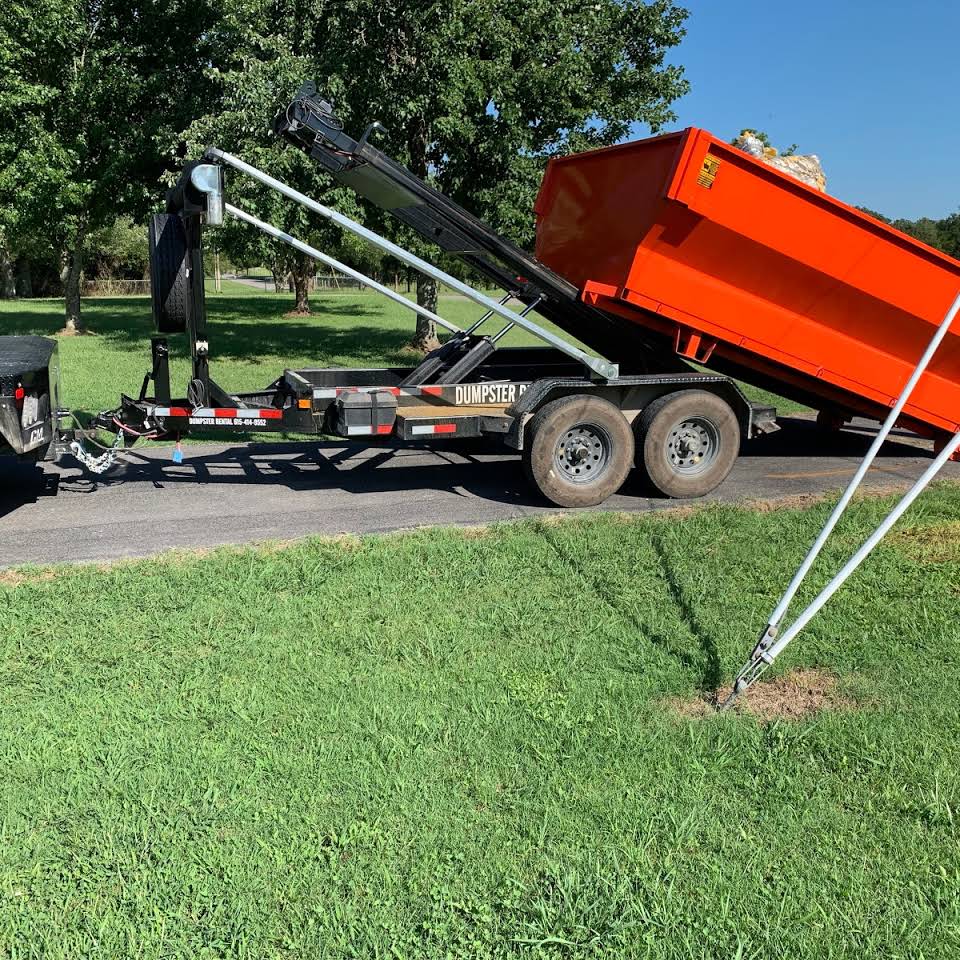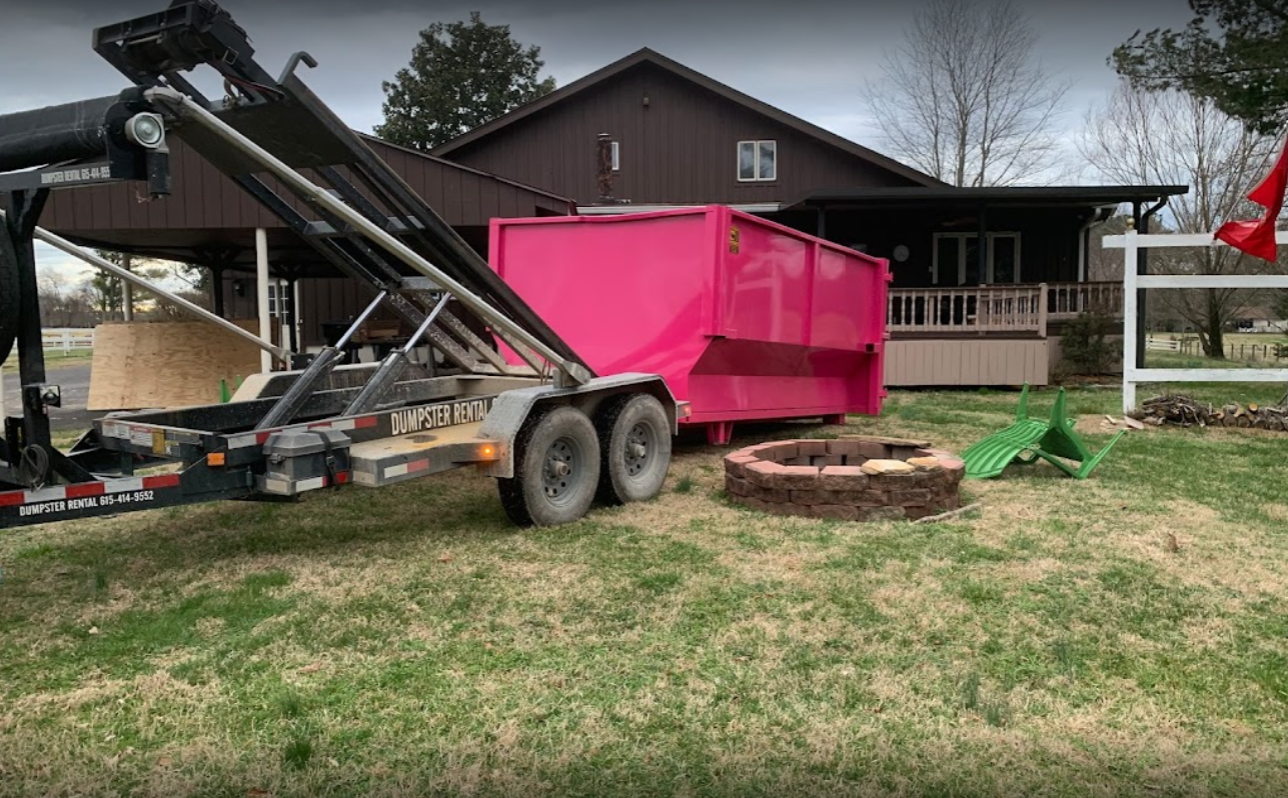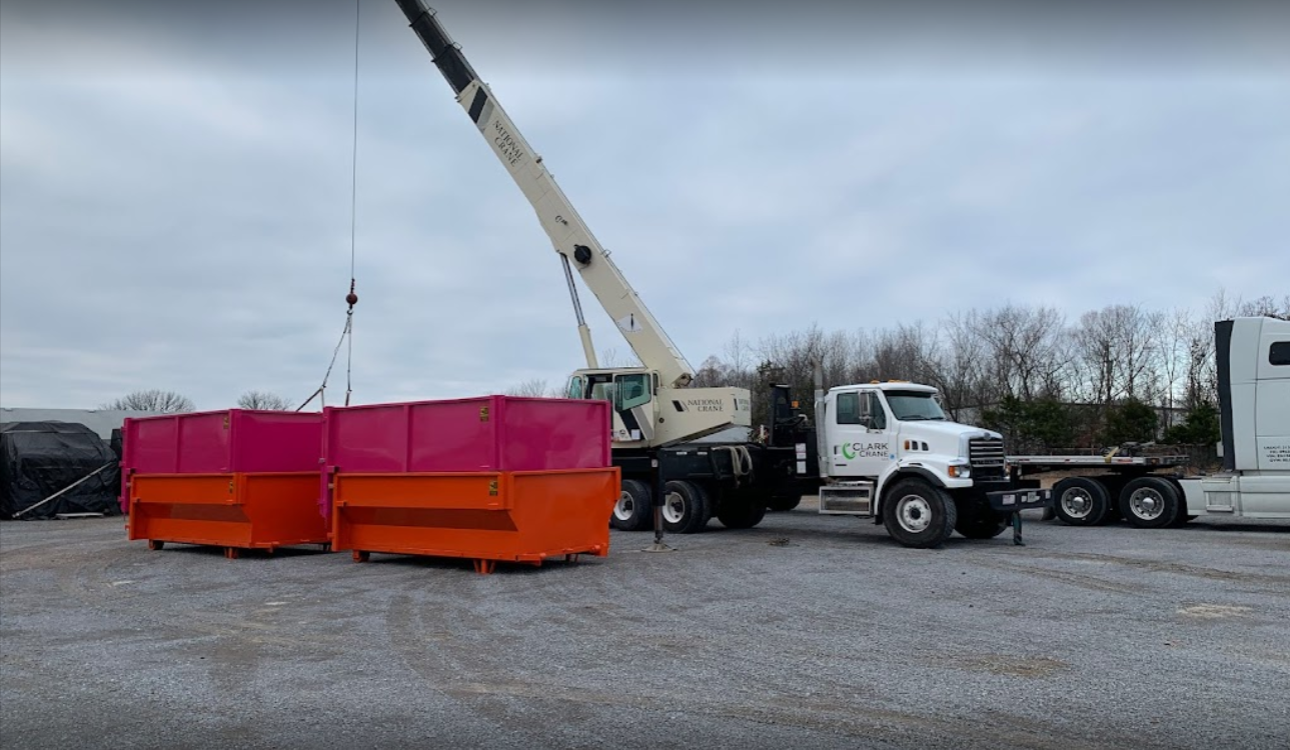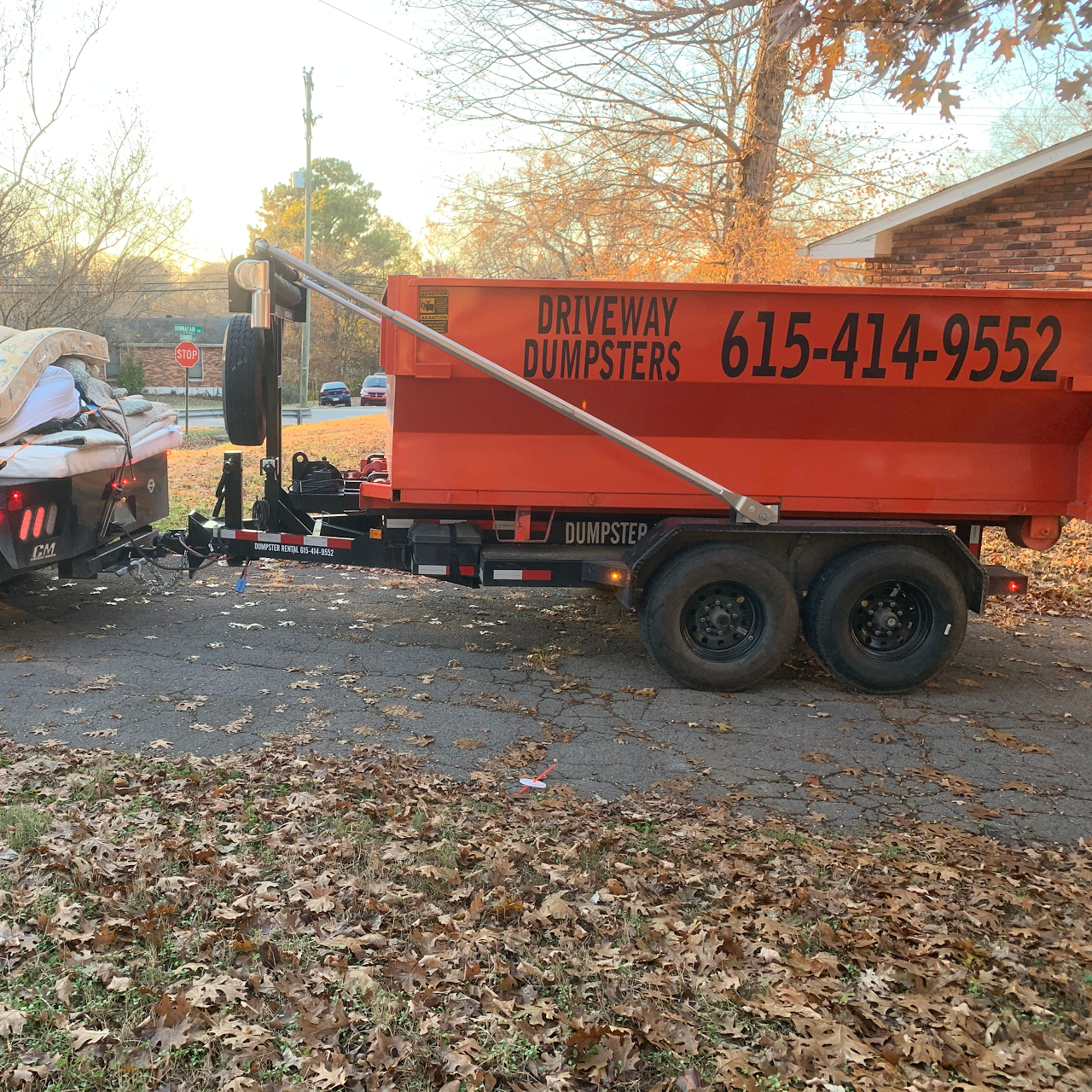 Small Dumpster Rental Nashville for Yard Waste
Having a tidy, well-kept yard is a source of pride for homeowners which is why our small dumpster rental Nashville is a must-have if you're embarking on a landscaping or yard cleanup project. Not everyone has a place to hide brush or debris and it's unsafe to try and burn, so utilize our roll off containers to complete your project at your own speed and have everything hauled away in one fell swoop. Disposing of the debris from landscape design and yard upkeep is easy when you have a Nashville TN dumpster rental. Throw it in and we will haul it away.

We dispose of yard waste and seasonal garden cleanouts, broken outdoor furniture, and broken outdoor children's toys or equipment. When you're ready to improve the look of your yard, trim your trees and shrubs, and get rid of the junk, we have a dumpster rental Nashville to contain it all. We will deliver a container to your site, solving your yard waste problem. Throw it in and we will take it from there! Book your yard waste roll off with us online today. We're confident our dumpster service Nashville will make a beneficial addition to your next yard project!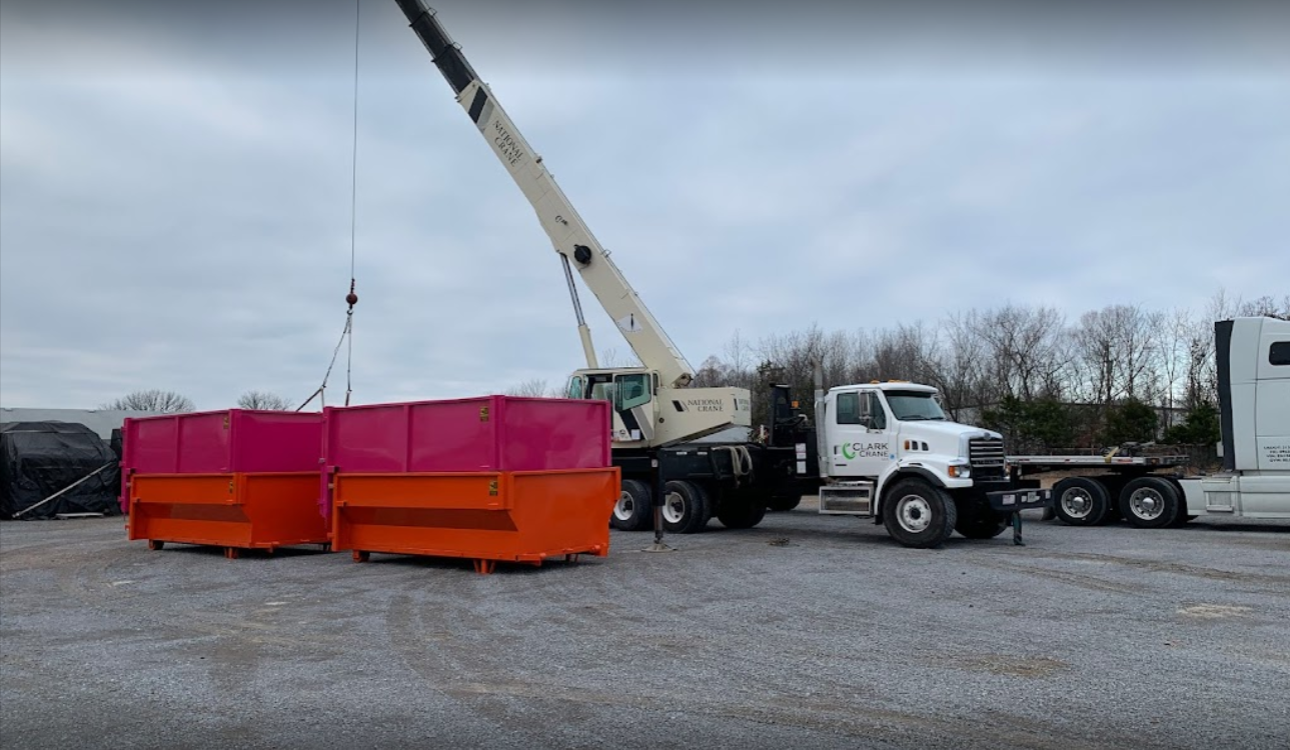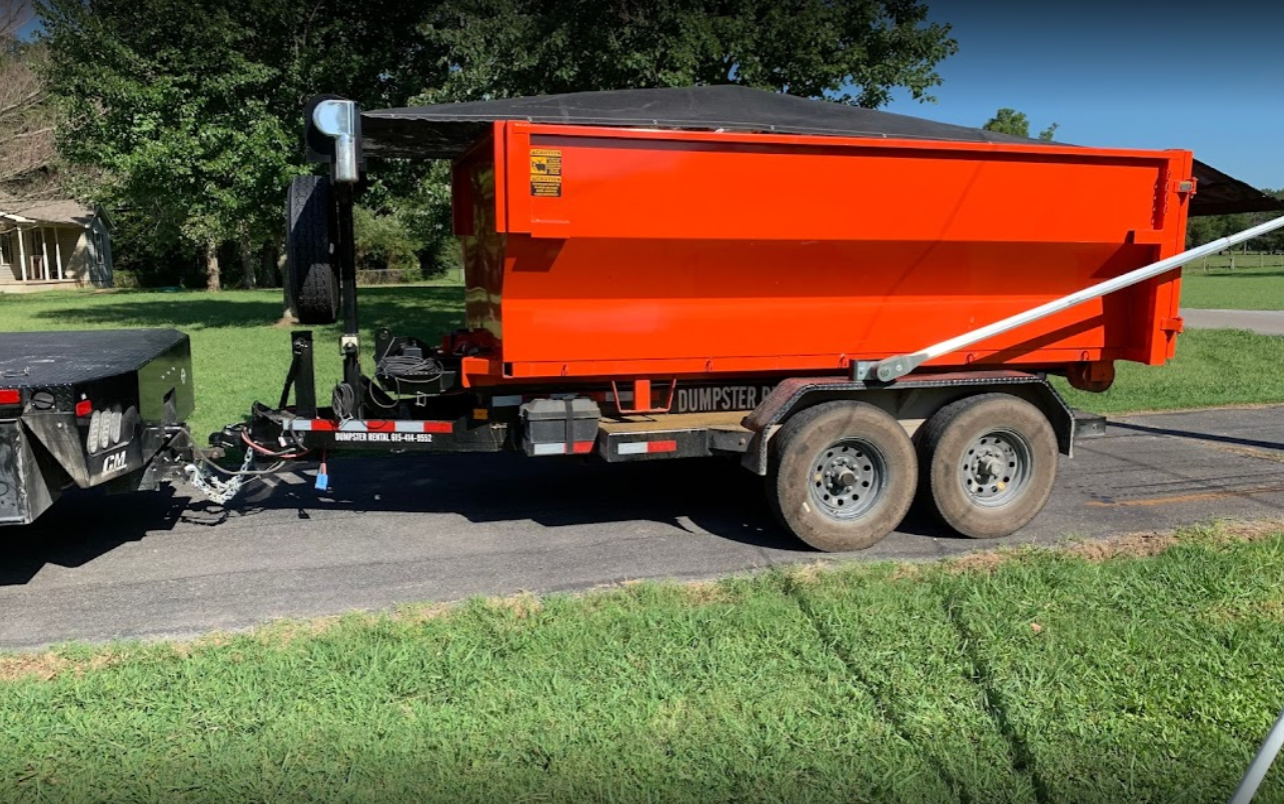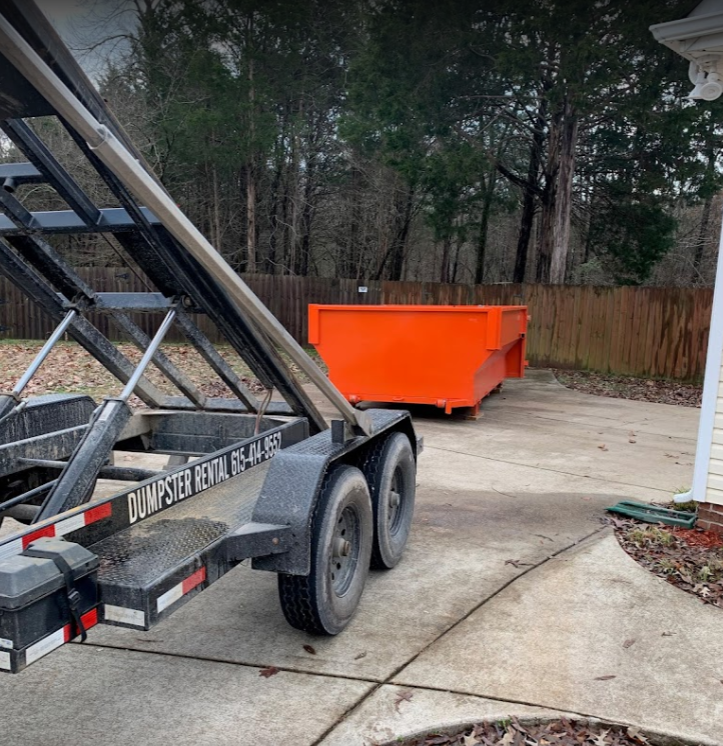 Contractors' Choice for Construction Dumpster Rental Nashville
Local contractors know that we have their waste containment handled with our construction dumpster rental Nashville. Our containers are on job sites throughout the area because of our dependable service and budget pricing. Our heavy-duty construction dumpsters Nashville TN will handle all of the various debris materials from your job. Everything from drywall and singles to lumber and piping can be hauled away easily in our containers.

Keep your job site safe from hazards due to loose debris scattered around. The waste materials will be contained as the job progresses with our construction dumpster Nashville service working for you. We provide the heavy-duty bins that will handle the debris from construction sites, keeping your project moving forward efficiently. We are the contractor's choice for construction dumpster rental Nashville.
Affordable Roofing Dumpster Rental in Nashville TN
It's essential to have a conveniently placed dumpster rental in Nahville TN for containment of roofing waste on your job site or at your home. Driveway Group Dumpsters has a 30 yard dumpster Nahville that roofing companies depend on. Our roll offs are well equipped to handle tile, debris, lumber, shingles, and so much more.

Roofing can be a hazardous job, so lessen the hazards by keeping the debris contained safely with our Nahville TN roll off dumpster rental. Affordably priced and durable equipment is what local roofers have come to expect from us. Complete your roofing job without a hitch with our dumpster rental in Nahville TN working for you.
We Take Just About Everything
Some examples of the junk we haul away include:
Refrigerator Disposal

Garbage Removal

Mattress Disposal

Foreclosure Clean Outs
Construction Waste Removal

Yard Waste Removal

Trash Removal
Furniture Removal

E-Waste Disposal

Hot Tub Disposal

Appliance Removal
Durable Roll Off Dumpster Rental Nashville TN for Demolition Projects
Demolition projects contain some of the bulkiest and hard-to-handle waste and debris. Our heavy-duty and dependable roll off dumpster rental Nashville TN can handle it all. Materials from a structure demolition take many forms, including wood, metal, and fixtures. All of those bulky and heavy materials are safely contained when you rent a dumpster in Nashville from our reliable company.

Our concrete dumpster Nashville will handle any asphalt or demolition materials from the job. Having a well-placed bin is key to the project moving forward, so rely on us to have the roll off dumpster rental Nashville TN where you need it and when you need it. Book your roll off online today!
Trash Dumpster Rental in Nashville for Commercial Use
We serve many area businesses with our dependable dumpster rental in Nashville. All businesses create trash and have the need for ongoing waste management. Restaurants, health care facilities, and apartment complexes all rely on our commercial dumpster services Nashville TN. No business can be caught short on trash containment, which is why it's essential for the sake of your reputation and cleanliness to have the support of a trusted waste disposal business.

Having a reliable and affordable trash management dumpster rental in Nashville is non-negotiable. Restaurants and hotels among other businesses create trash nonstop and we stay on top of the bin replacements, never leaving you without space for your waste. We can set up a maintenance schedule for your Nashville dumpster rentals, or call as your needs vary. You can count on our experienced team to handle the removal of your commercial waste so that you don't have to think about it.
How to Book a Dependable Roll Off Rental in Nashville
Driveway Group Dumpsters has made it an easy transaction to get the roll off rental in Nashville you need. When you're ready to book a dumpster Nashville for your trash and debris containment, we're here to help. With our online system, you have access 24/7 to schedule the container you need when you need it. You will see specific information regarding size, price, and length of rental.

1) Navigate to our "Dumpster Rental" page, then walk through the following steps:

2) Choose the bin that best suits your needs by clicking the pink "Book Now" button.

3) Select the date you want your roll off dumpsters Nashville delivered to your location.

4) Enter your information and contact numbers, location for bin placement, and any other relevant comments.

5) Submit your payment information using our secure online system. We accept all major credit cards.

You will receive an email and or text confirmation letting you know that you have successfully reserved your dumpster rental Nashville, TN. Our team will then be in touch to confirm the delivery window for the first day of your rental period.

If you're unsure about what you need for the job you have, call us at (615) 414-9552 and we will guide you to the best choice for a roll off rental in Nashville that suits your particular project. Our team is here to answer your questions or concerns regarding the best dumpster services Nashville for you.
Sizes and Prices of Our Local Dumpster Rental in Nashville
Our selection of sizes and prices make us the best choice for a local dumpster rental in Nashville. Choose the container from our inventory to accommodate your waste disposal needs. We currently have the following sizes for you to choose from for dumpster rental Nashville area.

Our variety of cost-effective roll off size options makes us the go-to choice for homeowners, property managers, contractors, and business owners. We carry everything from 10 yard to dumpsters Nashville TN 30 yard to meet all of your rental needs.

10 Yard: This size is often used by homeowners for cleanouts, flooring upgrades, and any DIY projects. Our Nashville 10 yard dumpsters are affordably priced at $375.00, a homeowner's frequent choice.

15 Yard: This container is on used for single room remodels, bathroom upgrades, or bigger cleanouts. Priced at just $475.00, they can be invaluable to your project goals.

20 Yard: These containers can handle whole house and garage cleanouts, small construction projects, and more. The cost for a 20 yard dumpster Nashville TN is affordably priced at $625.00, you'll be sure to have the space for all of your unwanted items and debris.

30 Yard: Our largest container for the big jobs, construction sites, and demolition work. Call us to get a 30 yard dumpster Nashville same day. This unit is priced at $750.00 to stay below your budget. Many times, when residents, contractors, or demolition managers are searching for a 40 yard dumpster rental Nashville, our 30 yard will do the trick.

We have the right fit for your project with our selection of local dumpster rental in Nashville. Additional rental periods and tonnage included are available as add-ons. We're transparent about our dumpster rental prices Nashville TN so you know exactly what to expect from the very beginning. Get in touch with us if you have any questions about the best options for your project! When you're ready to rent a roll off dumpster Nashville, choose the best of the best with Driveway Group Dumpsters.
Nashville Dumpster Rental FAQs
Our customer service team is here to help with any questions you have about a Nashville dumpster rental. If you're a first-time customer we've got you covered. Our knowledge and experience in the industry will come through for you. There are a few questions we get asked often listed below, but reach out with any others before, during, or after your Nashville dumpster rental.

1) What can I put into my roll off rental?

In general, if it fits safely in the roll off dumpster Nashville without spilling over the sides, we take it. Common items such as appliances, mattresses, storm clean-up from yards, outdoor items, construction materials, and trash are typically hauled away. If you have items that you aren't sure we can dispose of, give us a call. We cannot accept hazardous materials like asbestos, gasoline, or flammable liquids.

2) What are your prices?

Our containers are priced according to their size, rental period, and tonnage hauled away. The standard rental time is up to 14 days. We understand you might be searching for the cheapest dumpster rental Nashville, which is why we prioritize affordable pricing, on-time delivery, and versatile container options. We are committed to keeping our prices low so that everyone can use our roll off dumpsters Nashville and stay within their budget. Our 10 yard starts at $375 while our 30 yard begins at $750.

3) What if I fill the dumpster before I finish my project?

No problem there! Just give us a call us at (615) 414-9552 and we can swap out your full bin for another, promptly limiting your downtime. We are here to get you the Nashville dumpster that best fits your particular disposal needs. We make it quick and convenient to add tonnage to your roll off dumpsters Nashville TN rental for a cost-effective additional fee, so if you end up having more waste than you originally anticipated, there are no worries.

If you have any additional questions about how to ​​rent a dumpster Nashville TN, get in touch with us by giving us a call or browsing our website for more information.
Providing Affordable Dumpsters Nashville TN to Surrounding Areas
If you don't see your city or zip code listed, give us a call and we can generally accommodate your disposal needs. We serve customers from a wide area with our dumpsters Nashville TN, and we want you to be our next satisfied customer. When you're ready to rent a dumpster Nashville, give us a call or book online today!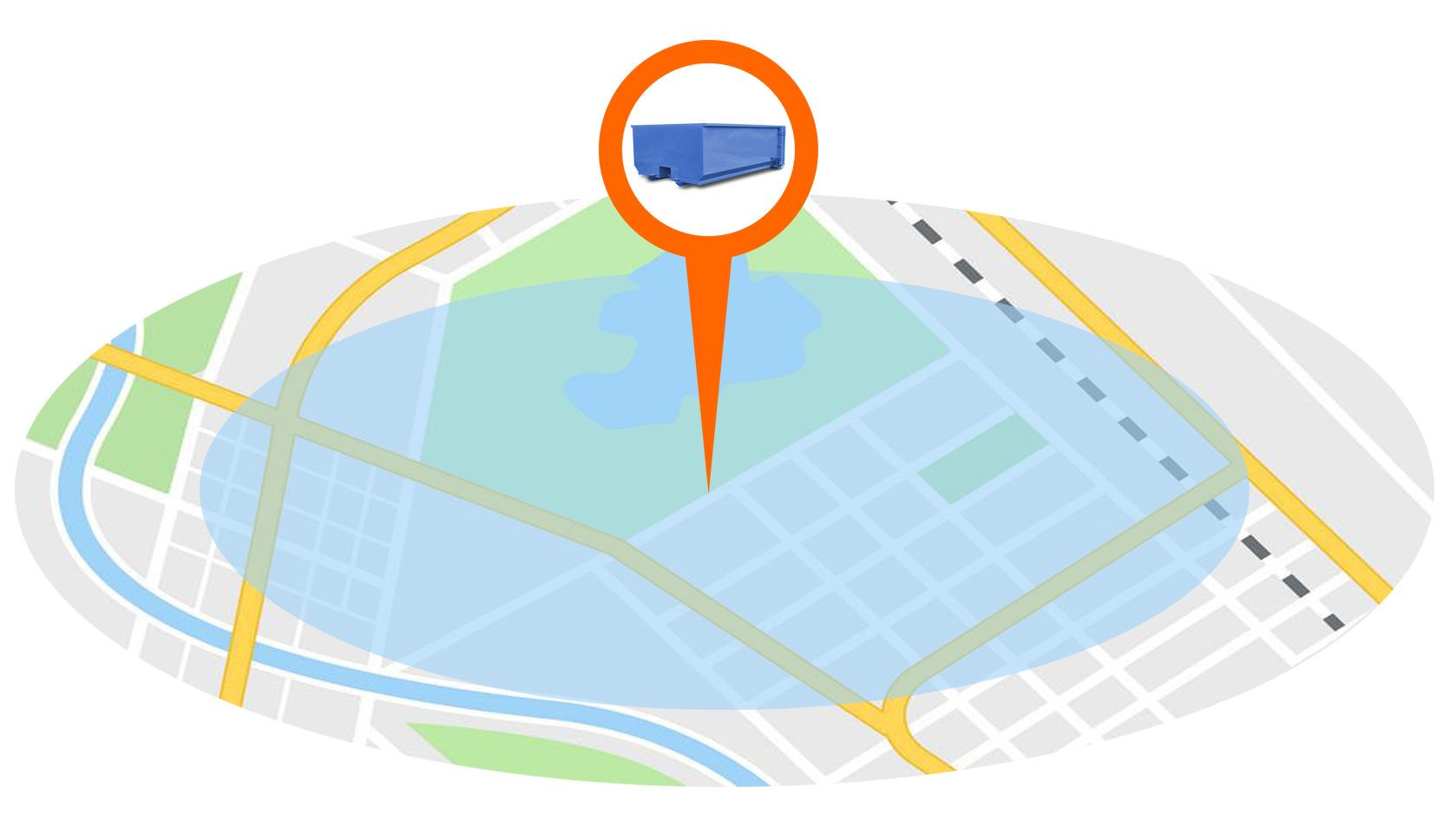 We've been proudly serving area customers with dumpsters Nashville TN for years. Along with providing affordable and 5-star reviewed service to Nashville and other parts of Davidson County, we provide our roll offs to Hermitage, Smyrna, Eagleville, Murfreesboro, Rockvale, Franklin, Brentwood, Lebanon, and Mount Juliet. When you're looking for a dumpster rental near me in Nashville, we've got you covered. We're happy to provide expert dumpsters Nashville to the following zip codes: 37201, 37203, 37201, 37205, 37206, 37207, 37208, 37209, 37210, 37211, 37212, 37213, 37214, 37215, 37216, 37217, 37218, 37219, 37220, 37221, 37228, 37238, 37076, 37167, 37060, 37127, 37218, 37129, 37130, 37153, 37064, 37067, 37069, 37027, 37087, 37090, and 37122.
Service Area